Books
[vc_row][vc_column width="1/4″][vc_column_text][/vc_column_text][vc_column_text]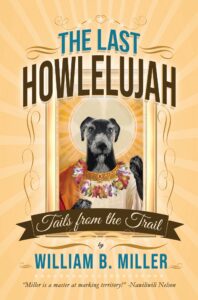 [/vc_column_text][/vc_column][vc_column width="3/4″][vc_column_text]
The Last Howlelujah: Tails From The Trail
A priest and his dying dog, Nawilwili Nelson, take a final 5,000 road trip, The Last Howlelujah Tour, from New Orleans to Las Vegas. Along the way, they share inspirational stores, sniff out new insights, and connect people from all walks of life. These heart-warming stories remind us of what ultimately matters in this life and of the special, even spiritual, bond between humans and their canine companions. The Last Howlelujah: Tails from the Trail is a moving, poignant and funny tale of an adventure across America that will delight and inspire us to come together to make a difference for one another and for our animal friends.

Reviews:
WILLIAM MILLER'S newest book about a dog, and a boy and his dog, is a book about God's presence within our lives. And a book about a boy and his God, "dog" spelled backwards. In the author's engaging and well written prose, the light of God's love shines through distinctly and ever so clearly. This is a book about faith and faithfulness, healing and hope, and doubt and discovery. It is a book about God's unlimited blessings and compassion.
THE LAST HOWLELUJAH: Tails from the Trail, is one of those rare books that will make you smile big, laugh out loud, and cry tears with wild abandon and a joyful celebration for life and love and all God's creatures. And you will not care who may see you doing so, you will become lost in these stories and lost within your own thoughts and feelings, forgetting your troubles and self in a glorious kenosis—self emptying.
Miller's smooth flowing and entertaining prose will bless everyone who reads them in a sacrament of words. Words that invoke a warm heart, a contemplative spirit, and a quickening of the flesh, where spiritual goosebumps will become a common occurrence, and joy comes easily bidden. These stories will break open your heart, while the light of lovingkindness flows from the page and into the great compassion of your soul.
They will ease your heaviest burdens, give rest to a weary soul, and renew your spirit. Before the end of the first chapter you will be humming and then singing that great Anglican hymn, All Things Bright and Beautiful, in a remembrance of its well-known and well-loved words and verses.
All things bright and beautiful,
All creatures great and small,
All things wise and wonderful,
The Lord God made them all.
In the end, or rather at the end, you will discover something true, which is why this is a journey of discovery. You will know, if you did not already know this before, that the creatures God sends our way are an answer to an unspoken prayer we never knew we were praying.  You will know, that the truest things in life, the truest knowledge, comes from a humility of heart and a loving-kindness and faithfulness of spirit we learn from them as the gracious gift they are to humankind.
You will learn, if you did not before, that in the deepest and greatest mysteries found within creation, dogs are their own howlelujah revelation. They are their own blessing from God. You will finally and utterly know, that "Dog" and "God" are a cosmic palindrome. And you will look with yearning and love upon the leash hanging by the doorway, to take your "best friend" out for a walk or to play in the park.
And if you have lost that friend recently or even long ago, you may one day find that God, within the infinite and loving wisdom of creation, has sent a new friend your way. And this is where you must pay attention. Because, such gifts really are an answer to an unspoken prayer, you never knew you were praying.  So, pay attention, don't miss that moment. It is an answer to your prayers. (Ron Starbuck, St. Julian Press)[/vc_column_text][/vc_column][/vc_row][vc_row][vc_column width="1/4″][vc_column_text]
[/vc_column_text][/vc_column][/vc_row][vc_row][vc_column width="1/4″][vc_column_text]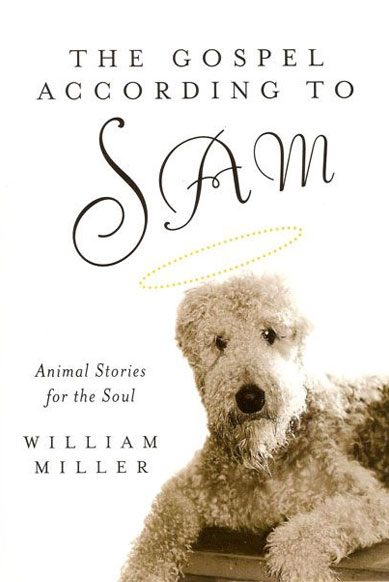 [/vc_column_text][/vc_column][vc_column width="3/4″][vc_column_text]
The Gospel According to Sam: Animal Stories for the Soul
Is an edgy, honest, often hilarious exploration of the spirituality in the everyday world inhabited by humans and their animal friends. The "Sam" in the title is Miller's Airedale, a lovable "wounded healer" of a dog who survived a house fire that burned off his ears but could not extinguish his spirit.

[/vc_column_text][/vc_column][/vc_row][vc_row][vc_column width="1/4″][vc_column_text]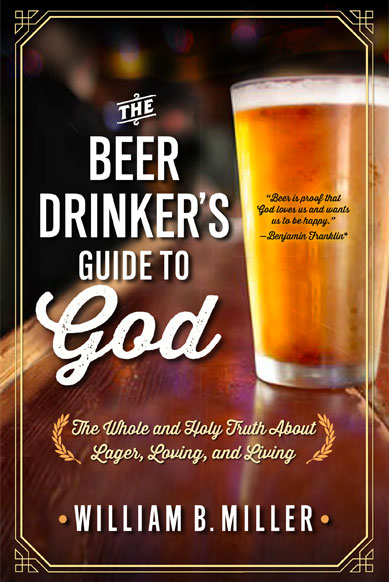 [/vc_column_text][/vc_column][vc_column width="3/4″][vc_column_text]
The Beer Drinker's Guide to God: The Whole and Holy Truth About Lager, Loving, and Living
Being upright does not mean you have to be uptight! From the deeply touching to the laugh-out-loud funny, Fr. Bill's collection of stories opens our minds to the glory of God and our mouths to some of God's more delicious creations. The Beer Drinker's Guide to God is a smart, hilarious book for those thirsting for God's truth.

[/vc_column_text][vc_column_text]
Reviews
"Bill Miller gives religion a good name. His book had me laughing out loud in parts and highlighting other sections for later reference. Buy this book, read it, then toast to spiritual transformation."
(Vince Poscente, New York Times bestselling author, The Age of Speed)
"The well-schooled theologian or the purveyor of spirits will both savor The Beer Drinker's Guide to God ."
(The Rt. Rev. C. Andrew Doyle, Author of Unabashedly Episcopalian)
"In The Beer Drinker's Guide to God, Father Bill Miller writes with eloquence and great humor—two qualities missing in much of Christian writing today—to remind us that Christianity is a religion of joy, celebration, and love. Father Miller's sermons are crafted like parables, and so is this wonderful, joyous, profound, inspiring, wise, and deeply funny book, which strikes the perfect note and doesn't miss a beat."
(William Broyles, screenwriter on the films Cast Away, Apollo 13, and Polar Express)[/vc_column_text][/vc_column][/vc_row]